On our last day together in DC we visited the Swedish Embassy. It is located in the beautiful House of Sweden; just by the waterfront, with neighbouring buildings like The Kennedy Centre and Washington Harbour. Considering the stunning location, it is an experience only seeing the house itself. However, we had come to meet with Deputy Head of Mission, even known as Deputy Ambassador, Göran Lithell.
We were warmly greeted as we entered the building, even though we had brought all of our luggage (since many of us were flying out later that day). After having gone through security check, we were shown to our meeting room by Swedish intern Isolde.
Visiting the House of Sweden was like visiting a home away from home. The rooms were bright and airy, giving a true Scandinavian feeling, and small signs of Sweden could be spotted everywhere (IKEA furniture, "dalahästar", portraits of the royal family etc.). It felt strange but very familiar to suddenly hear Swedish everywhere, and we decided that this was a good last meeting to have before our homecoming to Lund.
The meeting with Göran Lithell was as exciting and interesting as the building itself. As you can imagine, we did not fall short on questions once Göran Lithell had finished his presentation. As expected from foreign-policy enthusiasts, the coverage area of the questions did not disappoint either: everything from NATO-membership to TTIP and Putin. Even more impressing was Göran Lithell's extensive knowledge and ability to answer almost all of the questions. If we would have the chance, the discussions and questions could easily have continued throughout the day.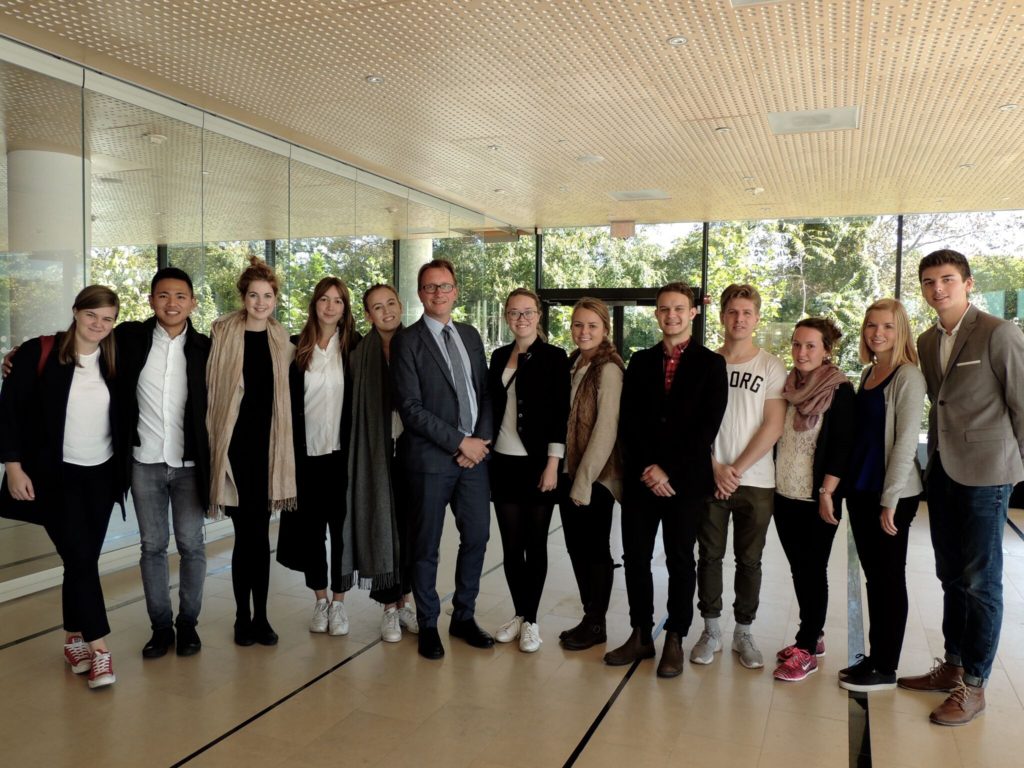 As the photo-loving people that we are, the visit ended with an extensive photo session in and around the House of Sweden: selfies, groupies, you name it. Once we were ready to hit the road, it was, as always, a bittersweet goodbye. Going from the experiences and adventures we have had during the trip to studies and gloomy weather in Lund might not have been exactly what people were longing for. However, we shared a beautiful last moment together in DC as we were standing on the stairs outside of House of Sweden, inhaling the crispy autumn air and overlooking the Potomac River for one last time.
As Heads of the Travel Committee, the two of us would like to say a BIG thank you to all of our fantastic committee members – this trip would not have been as rewarding and exciting if it wasn't for you. We have been so lucky to organize this trip along with such engaged, enthusiastic and kind people. Also, we are truly grateful to all of the organisations and institutions that greeted us during our stay in Washington. It made our visit in the states an experience we won't forget anytime soon.
This post was written by Caroline and Fredrik, Heads of the Travel Committee