On Sunday morning most people enjoyed a lazy morning after a hectic week. We packed our bags and checked out of our hostel at noon. Fortunately, the hostel was kind enough to let us leave our bags there and most of the group headed out to explore the city one last time. Me, and a few others, went to a huge mall right by Liberty Square and stored up on some stuff we wanted to bring home. I bought some Georgian wine and some local spices I've never seen in Sweden as well as some cheap good-to-have spices. Everything to recreate the amazing food we've eaten this week. After a nice lunch we strolled on in the city and found a small second-hand shop where we used most of the cash we had left. What was left, we quickly used up at the flea market we went to straight after. At the flea market there was everything you could imagine, from cables to Second World War medals. I bought a map of Georgia that I'm planning to put up in my apartment as a memory of the trip.
In the evening a couple of us went up with a funicular to Mt Mtatsminda. We watched the sun set over the city and reflected upon our amazing time in this beautiful city. Going up with the funicular was really a perfect ending to a perfect trip. At this point some of the group had already left. Some to take the night train to Baku, others took off to explore Iran. But everyone still in the city thought it was time to enjoy a final meal together. We took a taxi to a beautiful restaurant we'd seen earlier in the week and sat down to eat. The food was amazing as always and there was singing and dancing for us to enjoy while eating and talking (even if the talking bit wasn't so much since the music was kind of loud haha). After the dinner the only thing left to do was for us to wait until it was time to leave for the airport. Everyone was exhausted and some fell asleep in the big sofas at the hostel. At approximately 1:30 AM we thought it was time to head to the airport and that was the ending of our amazing trip to Georgia.
Written by: Maria Post
The whole travel-crew on a bridge crossing the Mtkvari river.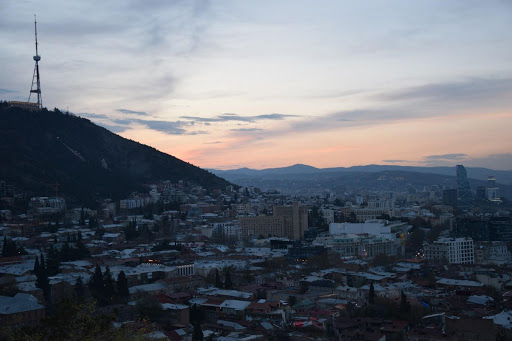 Last view over the city.