After a week of productive meetings across Tbilisi with both the public and private sector, the travel group was happy to catch up on sleep and rise a little later than the usual time during the week. It was time to discard the formal attire from out meetings for more casual clothes and explore the city as travellers!
Some members of the group decided to take the cable car to the top of the main hill overlooking the city. This provided beautiful views all across Tbilisi, allowing us to contextualise the travel we had done for our diplomatic meetings during the week. The diversity of Georgian society is reflected in the range of architecture that can be seen across the city.
On the recommendation of locals and other travellers, the group went to take an early dinner at Shavi Lomi, a restaurant nested in a rustic courtyard outside of the touristic centre of the city. Here the group sampled local wine, and indulged in a variety of delicious local cuisine in the afternoon sun.
After this meal some members stopped off at a charming boutique wine cellar where we sampled a variety of organic Georgian wines. Fortunately, one member of our company could speak enough Russian to communicate with the owner, and we were given some insight into the organic production process. Here many group members purchased some local wine as gifts for family and friends. Many members noted down the wine regions outside of Tbilisi as places to visit on future trips to Georgia!
To end the evening the group toured around some local breweries in Tbilisi, enjoying each others company and remising om the activities of the week. The city has stylishly adapted several post-soviet buildings into hip restaurants and social areas, which provided a great atmosphere for socialisation. Given the delicious and affordable nature of the local cuisine, some members of the group even decoded to finish the night with another restaurant meal close to our hostel.
Written by: Timothy Parker & Emma Lygnerud Boberg
Sanjin, Emma, Tim and Abi enjoying some Georgian lemonade in the sun.
Karolina, Colette, Tristan and Matilda following their great example.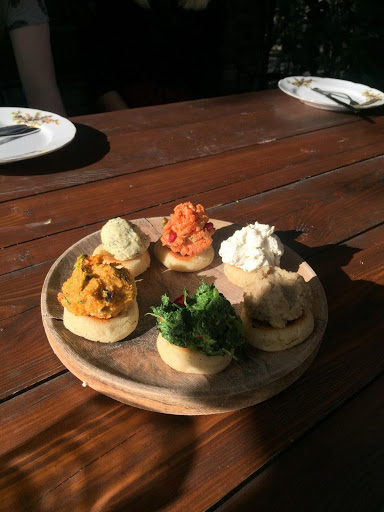 Some delicious appetizers at Shavi Lomi!