We arrived in Tbilisi, Georgia late on Sunday night. On the bus from the airport into the city centre, we got our first impressions of Tbilisi, which were entertainingly influenced by our long nightly journey and lack of sleep. One of the first things we noticed were the Georgian letters, which to us looked a bit space themed. This was true for other parts of the city, such as the ATMs, the radio tower and some of the obviously new infrastructure. It was a recurring feature that the city was a mixture of new and old, as well as a mixture of cultures. This might be because Georgia is situated between Russia, Turkey and Iran, and has historically been fought over many times. After the interesting bus journey we arrived at the Opera Rooms & Hostel Tbilisi, where we were staying for the week, to get some long needed hours of sleep.
The next day we woke up to a warm and lively Tbilisi, soon headed to our first meeting of the trip. Our first meeting was with a European civil servant and a former Swedish ambassador to Georgia, Armenia and Azerbaijan. We met a café in old Tbilisi where they began the meeting with thoroughly explaining the history of the Caucasus region leading up to the current political situation.
During the evening we went on a walking tour of Tbilisi led by our amazing guide Sev who told us all about the city. He took us to all the interesting sites, all between religious monuments to local bakeries. Starting off with old cathedrals and a cable car ride to the top of a mountain to visit the big statue of Mother Georgia, overlooking the city. After boosting our instagrams for way too long, we walked back to the city to get acquainted with the local food.
The day ended with some delicious Georgian wine, as well as the infamous khachapuri which is basically cheese on top of cheese, on top of bread. Don't worry, we also had some walnut filled aubergine and grilled vegetables!
Written by: Louise Grönsund & Sanjin Alagic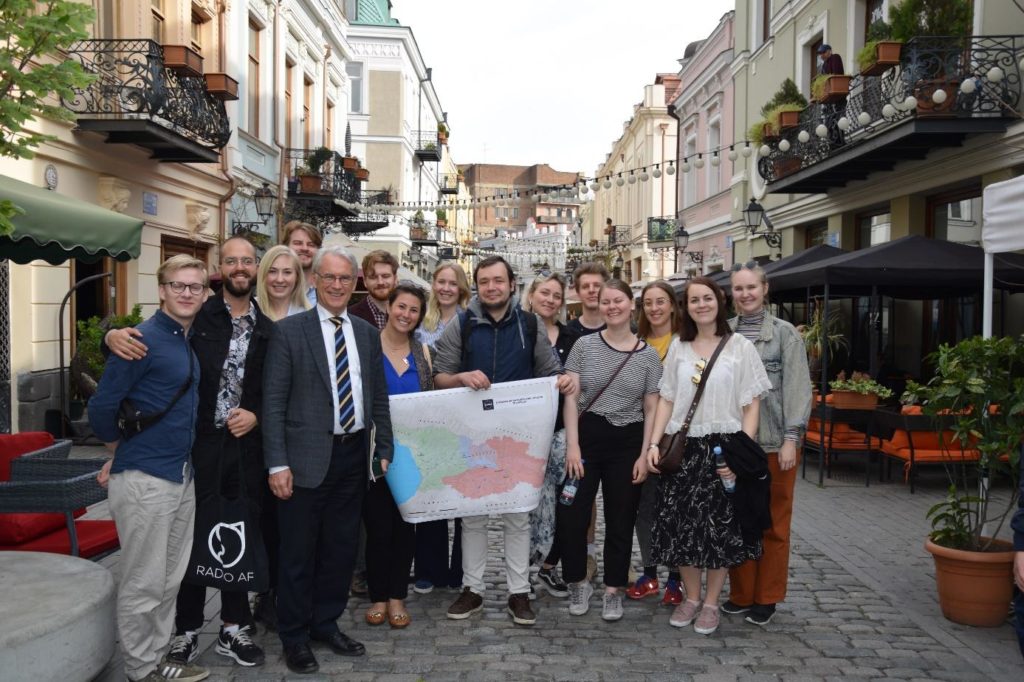 Meeting with Hans Gunnar Adén – former Swedish ambassador to Georgia, Armenia and Azerbaijan.
The view over Tbilisi.