Page last updated – February 18th, 2021.
UPF Lund has shifted its operations due to the ongoing pandemic. This is how our association and specific committees are adapting to these changes. You can find emergency information from the Swedish authorities here.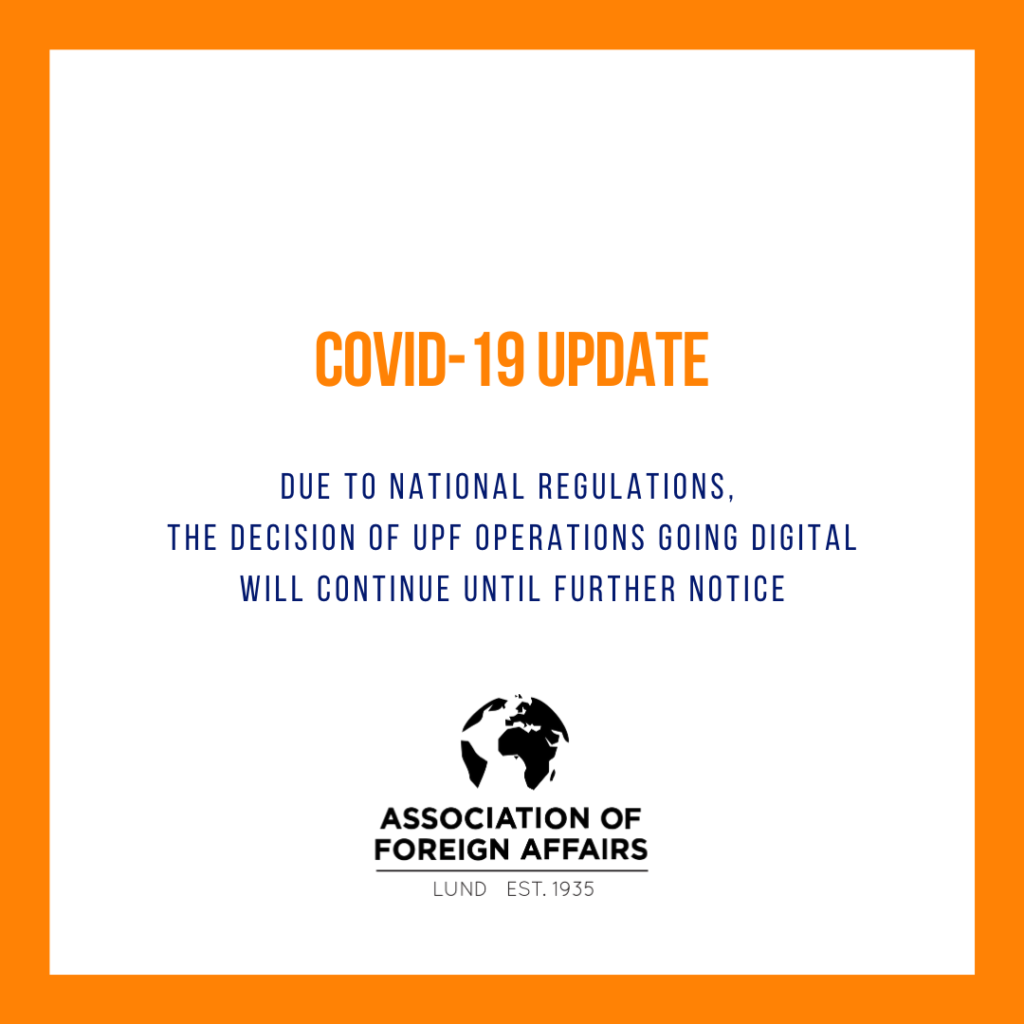 Question for the UPF Lund committees: What did you initially have planned for this semester?
Activity Committee
Our plan for this semester was to have as normal as possible committee work. For example to have two sittnings, a study visit and other events as election night and pub quizzes. We thought that if we could work normally as a committee we hoped that there would be more members join the committee since a lot of active members left after the committee work stopped last spring semester.
Career Committee
From our very first meeting in September, we had a very clear common understanding of the situation and of how we wanted to handle it in the Career Committee. We were prepared for the fact that most of the Committee's usual activities would have to be adjusted to take place online. Most of our planning included online seminars and we started coming up with ways to hold the Networking Event online. However, in the beginning of the semester we still kept the possibility of having some of our seminars in person open.
Lecture Committee
For this semester the Lecture committee planned to have several hybrid lectures. We thought this would be a good way of keeping the lectures interactive during Covid, both for the students and for the lecturers. We also planned to have lecture committee hangouts throughout the year to create a fun atmosphere for the active members which in return would be beneficial for the committees work sessions and meetings.
Magazine Committee
Initially, we wanted to hold regular in-person meetings as well as regular socials + workshops + release parties. Furthermore, in-person meetings would have allowed us to mock interview situations and help prep our committee for their tasks in a safe space.
Pod&Radio Committee
We planned to proceed with our work in the usual way and aimed to start airing the live-shows and producing the podcasts as soon as possible. The only pre-limitation we put on ourselves was to set a limit on the number of participants to the number of mics available (4+ host) so as not to overcrowd the live studio. All in all we feel like we have been able to fulfill our plan; we have been consistent with the live-shows (although we have had to lower the number of participants to 2+host) and we published our first podcast earlier than expected.
PR Committee
In our first semester, we were really looking forward to having PR committee meetings in person so we could really get to know our committee and hang out often! We had also planned for media-skills workshops including video editing and photography workshops to take place in person and in the office. As well, for UPF and PR related work we wanted our committee to have access to the office computer or have the chance to meet up in the office to work on projects together. In December we were also interested in having an in person year end get together.
Travel Committee
We initially planned a trip to Kiruna for this Autumn semester but had to annul it because of the second wave that hit many parts of Sweden and Europe. Before the trip, we had planned some corone friendly activities for our committee members such as a themed dinner at Maguette's place, a themed movie night among other things. Each committee member had the possibility to join working groups that would work on a project for the trip. We had the podcast, PR, Webzine, travel blog, cultural activity group. Each member had the choice to be part of one or more. We were looking forward to making a podcast about the trip, updating everyone about it on Instagram, writing articles about interesting subjects related to the North of Sweden and of course taking a lot of pictures on the beautiful Northern scenery.
Webzine Committee
We had initially planned to do several writing workshops this semester, but we did unfortunately not do more than one. This was partially due to low attendance of the first workshop and that most members have been with us since the start of the semester (therefore they are already quite learned by this point). Sadly the planned collaboration with the travel committee to do a second workshop was cancelled because the trip was cancelled. The one workshop we had however was a big success among attendees and it was evident that they learned a lot! We also had planned to (continue to) focus on being a very open and social committee , and had planned to have physical social hangouts. Due to new restrictions this hasn't been possible at all.
Question for the UPF Lund committees: What struggles did you face during this semester and how did you solve them?
Activity Committee
Since everything moved online, we tried to manage it the best we could and accommodate our active members to the changing circumstances which went okay. We tried to be innovative with new activities that we could do online since most of the traditional ones were not directly suitable to be transferred online. It should also be said that a lot of the events that we thought we were going to have was possible to change into something digital. Instead of pub quizzes we had Instagram-quizzes, and instead of a normal sittning we had a zoom-sittning. The after work in the office was also a way to have a smaller event where people could meet but the infection rate was low. The biggest positive was that our study visits were not limited by distance. We could easily have one in Berlin and the other one in Brussels and it does not cost us a cent!
Career Committee
Our biggest struggles have had to do with attracting Committee members and participants to our online events not organizing the events online per se. In our Committee, we have tried to emphasize good and relaxed atmosphere. We have also tried to encourage our members to take their own initiatives and to participate in organizing our events as much as possible. We have for example encouraged our committee members to act as moderators in our seminars (without forcing anyone of course). By feeling more involved, we are hoping that our members have greater incentives also to stay active in our committee.
Lecture Committee
The primary struggle for the lecture committee has been facing the new, stricter restriction which enabled us to have any hybrid lectures and go completely digital. Having digital lectures and panel discussions is working smoothly but it is undeniably more difficult for students to feel a sense of engagement online, both for the students who are attending our digital lectures and for the students who are active members in our committee. We also struggle to spend money, and due to this, fulfilling commitments we have connected to the grants. When it comes to the interactive part, we have worked hard to maintain an active Q&A at the end of every lecture so that attendants feel more comfortable asking questions to the lecturer. We, the Heads, have prepared questions so that the lecturer also feels that they are interacting with the audience which is greatly appreciated. We also have encouraged our committee and the board to ask questions directly to the lecturer so that it isn't only us Heads who are asking the questions. When it comes to committee meetings, we have had hangouts and meetings via zoom. We try to make weekly quizzes and Kahoots on the lecture theme to create a more fun meeting atmosphere. We have also divided the committee into working groups and during meetings we create breakout rooms so that they get the opportunity to be active as a member digitally. We have also purchased an advanced zoom prescription for our digital lectures to give a more professional impression. This cost can also be helpful in our aim to have certain lectures on themes connected to different grants which requires us to spend money.
Magazine Committee
With COVID and new restrictions, the initial recruitment process became harder as well as the ability to build community cohesion. This became a lot more difficult as we basically moved everything online. In the beginning, we held hybrid meetings which later turned into online-only. Some of our members are not currently in Lund (due to COVID), so going digital allowed us to keep them on board. We held workshops online and are planning to organise a holiday social for our committee, too.
Pod&Radio Committee
For most of the semester, the production for the Pod&Radio committee has been continuing in a, mostly, normal fashion. The main thing we had to adapt to were the restrictions coming from Radio AF studios which is where we record and broadcast our live shows. Due to the restrictions for all associations in AF Borgen, we are now only allowed to be three people in the recording and live studios, as compared to a maximum capacity of 5 in each previously. We also had to adapt to new regulations regarding the editing room which led us to purchase the editing software for a limited time so that our members can edit at home and stay safe.
PR Committee
At the beginning of the semester we were allowed a maximum of 13 UPF members and 2 Committee Heads in the office at a time, so we started offering committee meetings on Zoom in addition to in person meetings. This was manageable and allowed us to be more prepared when UPF operations ultimately changed from being offline to online. Weekly Zoom meetings included a check-in as well as a fun question so we could still engage with each other in the same casual way as we would in person prior to 'getting down to business'. We also offered to stay in the Zoom after meetings as an opportunity to casually chat with members. The Photoshop, video editing and website editing tutorials were offered as screen-sharing meetings on Zoom. The Adobe Suite was also purchased for the PR Committee so members can use it on their own computers and take turns using the apps.
Travel Committee
The biggest struggle was rearranging the whole trip in order to accommodate for the current pandemic. In the beginning of summer we thought it would be possible to go on a trip to an European country at least, but these plans were quickly shut down because of the uncertainty of the situation. The first struggle for us was then how to choose a destination within Sweden that would interest people. However, we found that the interest of traveling within Sweden was big and that people were very interested in going to Kiruna. This taught us that it's not always a flashy, big city that will draw the most applications but rather a place with beautiful nature and a rich history.
Webzine Committee
Having to be almost completely online was by far the biggest struggle. Attendance usually drops when activities are moved online, but luckily since we have managed to create an open and good group dynamic it hasn't been as bad as expected. We are going to host an online hangout on December 10th which hopefully will be successful and which will carry this social side of our committee even further. To make it more attractive to come to a hangout now that it is online we are offering reimbursement for snacks, even at a distance. Two of our committee members have also volunteered to make a quiz, so surely it will be a fun evening 🙂 There have been many website struggles with theperspective.se, so besides the problems due to corona that has by far been the biggest issue. Through joint workshops and discussions between the media committees we have managed to update the website now and get it into a much better working order. This wasn't easy however, it was a drawn out process and a lot has been based on trial and error since we are all new and learning at this. It is wonderful that we have come to this final result though, shout-out to Gaby, Roja, Max and Clara for doing this together with us!
What problems or situations were you unable to solve as a committee?
Activity Committee
We had to cancel some events, which we were was not possible to replace with online ones. The election night is one example, but the new regulations together with technical obstacles did that it was impossible to change that quickly. Another example is the sittning in December which will not be replaced. On the other hand, there were other online events in December but not something in connection with the Nobel Peace Prize.
Career Committee
Regarding the seminars, we have been trying to think what ways we could increase the number of people participating. We have tried to hold them both with and without a sign-up form. We had a bit more people participating in the seminar where people did not need to sign up separately, but the difference was not big enough to draw any conclusions. We have also had seminars lasting for 2 and 1,5 hours but again there has not been a great difference. Additionally, after Committee meetings going completely online, our meeting turnout has dropped slightly.
Lecture Committee
So far, we have managed to find alternative solutions that work as a supplement to our customary operations. If the restrictions continue to not allow hybrid lectures for the remaining months of the operational year, we would probably not be able to use our budget. In a digital setting, we have no expenses which is a problem that is difficult to find a solution to.
Magazine Committee
So far, there have been no unsolvable situations as the restrictions are very clear. We aim to have in-person meetings again as soon as we can.
Pod&Radio Committee
So far we have managed to continue with our productions as we planned at the start of the semester. Depending on how the restrictions from AF Borgen continue to change we might face a time where the studio is unavailable to us for a time, but we are hoping that will not be the case.
PR Committee
In person events offer a more dynamic opportunity for committee members to attend as representatives of PR and be immersed in PR tasks like photography and live social media commentary and videos. Sometimes a limitation of doing work behind a screen for the digital realm is that no one sees the graphic design work that you do, and tasks like live social media posting from your own home can feel less impactful. It's therefore difficult to make committee work enticing in a way that everyone wants or is able to participate.
Travel Committee
When the second wave hit Sweden and other countries in the world, the crushing reality hit us hard. We had to cancel our trip to Kiruna. Both of us are very positive and problem-solving people and we were motivated by our amazing committee members to try to re-plan another trip to Kiruna for the Spring semester. However, we had to reconsider and make the tough decision to let go of this semester's committee members and our trip to Kiruna. The situation we had before us was tough but had to be done this way. The issue we have now is how we are going to plan a trip for next semester. With the current situation we do not have a solution yet and we are still struggling to find a solution to this issue. We have some ideas and thoughts but nothing concrete that will make us a decision on how to do it. Another big issue for this year was the always looming threat of not being able to go through with the trip.
Webzine Committee
We have sadly not been able to fully make up for the lack of physical meetings and activities together. Because of that our group and attendance is a little bit smaller than it was last year. We also continue to struggle with Facebooks advertising policies which seem to have become a lot more restrictive and which are making it very hard for us to push our articles to have a greater reach. This has particularly been a problem around and after the US elections, of the past 4 articles only 1 was not rejected for advertisement by google. We don't quite know how to solve this yet because the only option facebook seems to offer is to become "facebook authorised" and this would require us to send in our real personal ID to facebook, and neither of us is willing to do that.