Our second day in DC was a Friday. We had an easy start of the day, strolling around our neighborhood to see some new parts of the city. Many expect Washington to be filled with huge, prestigious buildings, and while that is certainly true for the blocks around the Mall, there are parts of this city that seems a bit humbler.
We made it to the historical bookshop Politics and Prose. Having teamed up with the wonderful café Busboys and Poets, this place was heaven for any book loving "fika"-enthusiast. The bookshop has been a historic meeting place for people of the Civil Rights movement, and has been visited by several famous Democrats (i.e. President Barack Obama).
Later on, we had a meeting downtown with the political consulting firm Solidarity Strategies. It is one of the few Latino-owned companies working with political campaigns, specializing in progressive matters. Some of their main focus areas are environmental issues, Latino outreach and voter targeting, meaning that they customize their campaigns in order to reach specific groups of voters.
The company is only 6 years old, although the founder and president, Chuck Rocha, has been involved with political campaigning for over 25 years. We were all quite impressed to hear they've been working on the presidential campaign of Bernie Sanders. According to Rocha, the cultural competence and bilingualism of the staff at Solidarity Strategies gives them a unique ability to reach certain voters. The meeting with Solidarity Strategies truly gave insight to what value political campaigning has in this country. Compared to Sweden, where the campaigns of politicians usually are quite modest, this system is built on personal promotion and insulting the political opponents.
Our afternoon was spent in the Georgetown neighborhood; another part of the city quite dissimilar to what we've seen so far. Although Georgetown might be one of the poshest neighborhoods to be found on the east coast, it reminded us more of a relaxed, leafy suburb.
We went to the Georgetown University to meet up with Paul, a student from Germany who is majoring in security studies here. He was friendly enough to give us a grand tour of their beautiful campus, which I believe made us all dream of an exchange semester in DC. Having seen their wonderful library and the views from their student dorms, overlooking the Potomac river, studying at Georgetown seemed even more thrilling. The fact that the university's main building looks disturbingly much like Hogwarts certainly added to the feeling.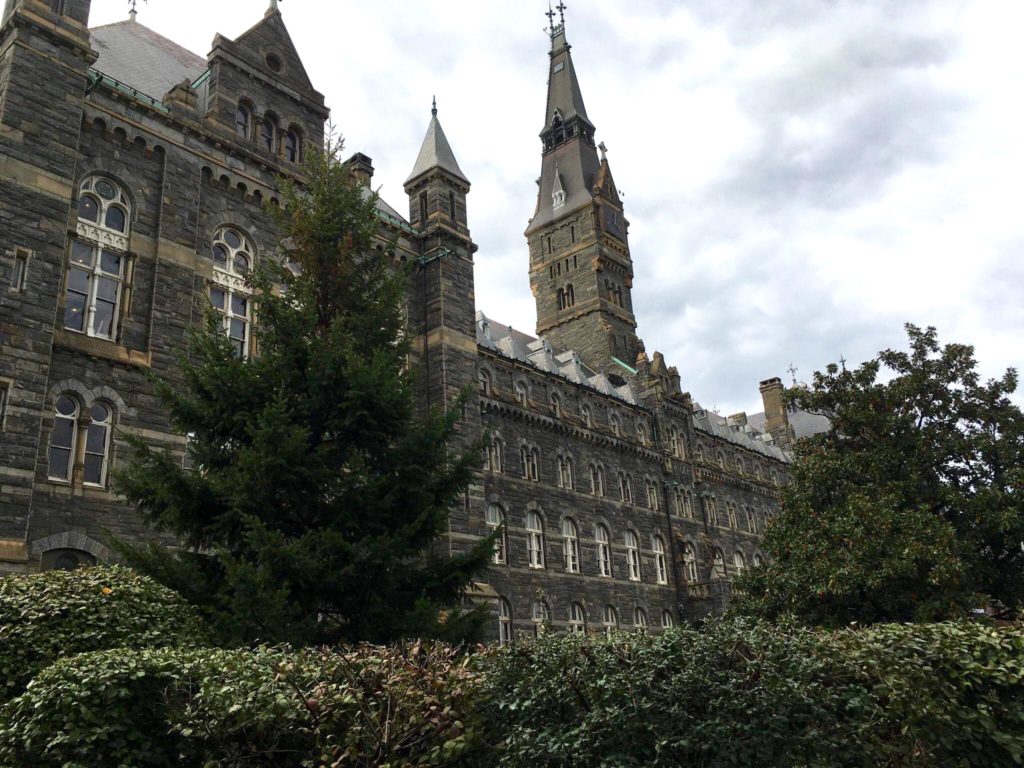 This post was written by Caroline, Head of the Travel Committee.