After an early wake-up on Saturday morning, it was time to say goodbye to our beloved fellow travellers. Two of us, though, were blessed with some lecture-free days by Lund University, so we stayed to explore some more of Morocco!
Rabat is not a very touristy city, so less-travelled routes can be hard to get hold of, as we had to learn. Our plan was to go to Chefchaouen first, a lovely blue city near Tangier in the North, and from there to Fez. Finally at the bus station though, we had to learn the only bus for the day was fully booked. A good traveller is a flexible traveller, so instead we spontaneously hopped on a train to Fez!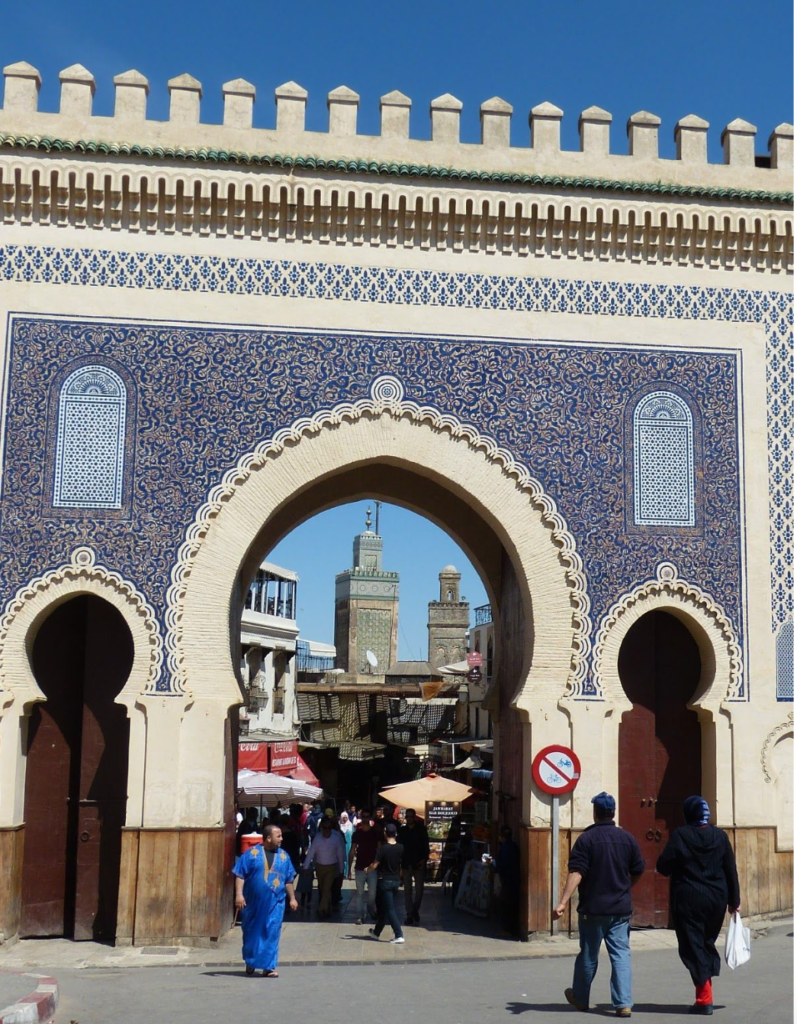 Upon our arrival, we immediately realised why everybody had kept assuring us that Rabat was not Morocco. While Rabat is considered Morocco's administrative and political centre, Fez is the religious and cultural one – and that shows. For the coming days, we were surrounded by fellow tourists and swarmed by locals that wanted to sell, guide us somewhere, or simply engage in a chat. Quite a change!
The medina of Fez, a UNESCO World Heritage, is a maze of over 9000 narrow streets, with some houses dating back to the 13th century! The area is so big and impossible to navigate that on one occasion, in the attempt to cross to the other side of the Medina through tiny, busy alleyways we became increasingly wary of everybody wanting our attention, started to take random turns in a desperate attempt to escape the bustle and hustle! When we eventually did, we were only a steep hike uphill away from our destination:
On a hill next to the Medina, some ruins is all that is left of the 14th century tombs of the Merinid dynasty that once ruled Morocco. However, the site offers a superb view over the entire Medina and, at 25 degrees, some much-appreciated wind!
The next day, to avoid getting lost in the Medina again, we took a guide to the famous tanneries where most of the Moroccan leather for bags, shoes, clothes and other souvenirs is produced. Even though the smell was pungent, the sight of this thousands of years old process was quite impressive. However, having just seen (and smelled) the leather in its previous forms, neither of us felt like buying leather products very much afterwards.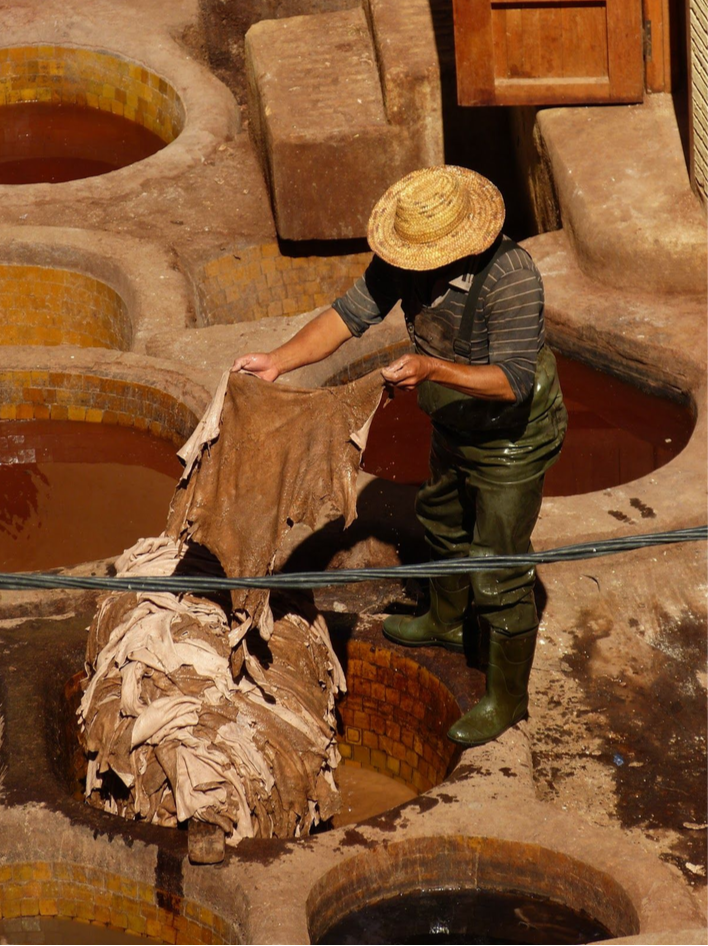 The rest of the day we indulged in being proper tourists – we laid on the roof terrace in the sun, bought some souvenirs, and at night had dinner with some other travelers at a restaurant with a view over the Medina.
Since we had not managed to go to Chefchaouen from Rabat, we were determined to at least see the blue city for a few hours on our last day. We took the bus at 6:00 in the morning and were supposed to get there by noon. Unfortunately, our bus hit a parked car, and the heated discussions between the bus driver, the owner of the car and probably every single person who had seen the incident delayed our arrival for over an hour. The landscapes we drove through were so beautiful and unexpectedly green, though, that we hardly minded!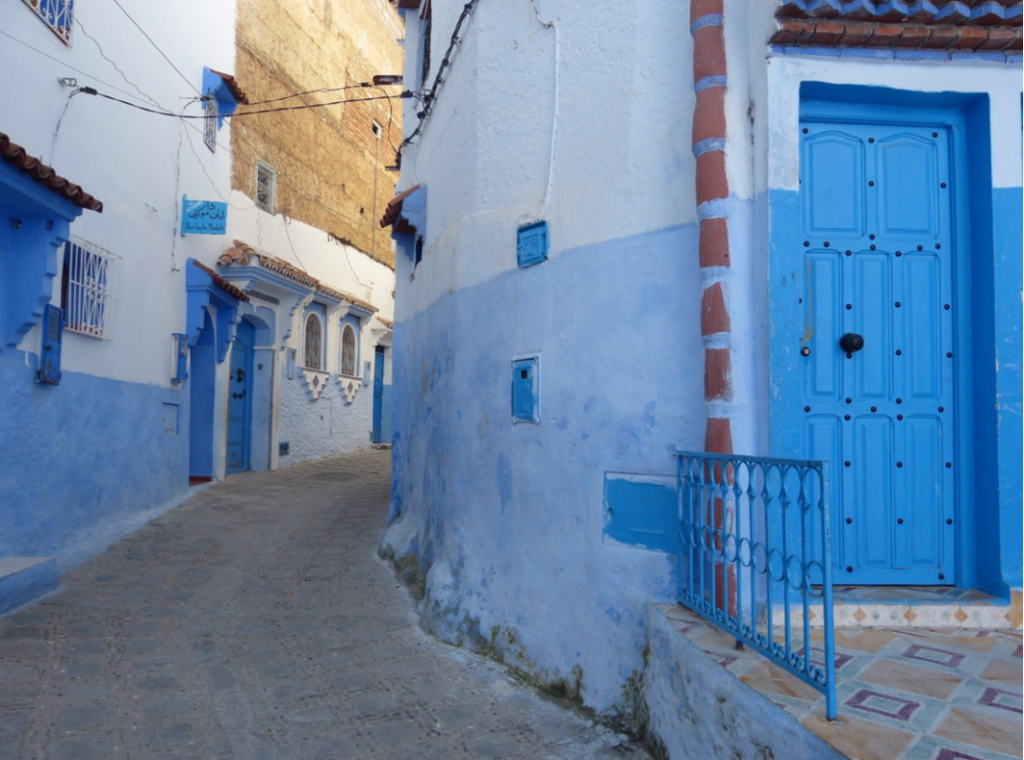 Chefchaouen is a cute, old little town in the Rif Mountains famous for its photogenic blue houses. While there are many different theories on why the houses are blue – from blue keeping away mosquitoes to it having been introduced by Jews during the second World War -, when asking a local woman, she answered that in the sun, it is simply nicer on the eyes. And indeed, the narrow streets and small houses all shining in blue, with small colorful shops in between, are a unique sight. Unfortunately, as most beautiful places, Chefchaouen attracts a lot of tourists, and the city is clearly adapting to that.
After a long bus ride back to Fez, we only had a few hours before it was also time for us time to go back to reality and head to the airport. Luckily, we were so tired by then that it was almost not so hard to leave Morocco at last (but just almost).
This post was written by Anne and Hannah, members of the Rabat 2017 travel committee.