Beirut is one of the most important working areas in the world for UNHCR
Third day in Beirut began with meeting with the UNHCR. We were welcomed by Lisa (insert name) who gave us an introduction to UNHCRs work in Lebanon. The current operation that the UNHCR is conducting in the country is one of the largest in the world. They struggle to handle the increasing amount of Syrian refugees flowing into the country. The refugee population in Lebanon is now larger than one million people, excluding the Palestinian refugees that have been in the country for generations. During the first years of the crisis Lebanon's borders stayed relatively open, and refugees were registered and cared for by the UNHCR. However, the approach has more recently changed to a stricter one. Rules and requirements concerning visas and work permits have gotten stricter, and the UNHCR is no longer allowed to register new refugees. As a result, an increasing amount of refugees find themselves out of work, and are forced to take loans to be able to support their families.
Our next meeting was with the Media Association for Peace (MAP). They invited us to a lovely lunch and explained the concept of peace journalism as well as their work in Lebanon. Their goal is using journalism and the power of language to promote peace and understanding rather than focusing on scandals and creating a sense of opposition. They have several projects concerning topics such as media and peace and conflict, environment and human rights. They organise workshops, set in the beautiful Lebanese mountains, where they invite young journalists and students to learn about the concept of peace journalism.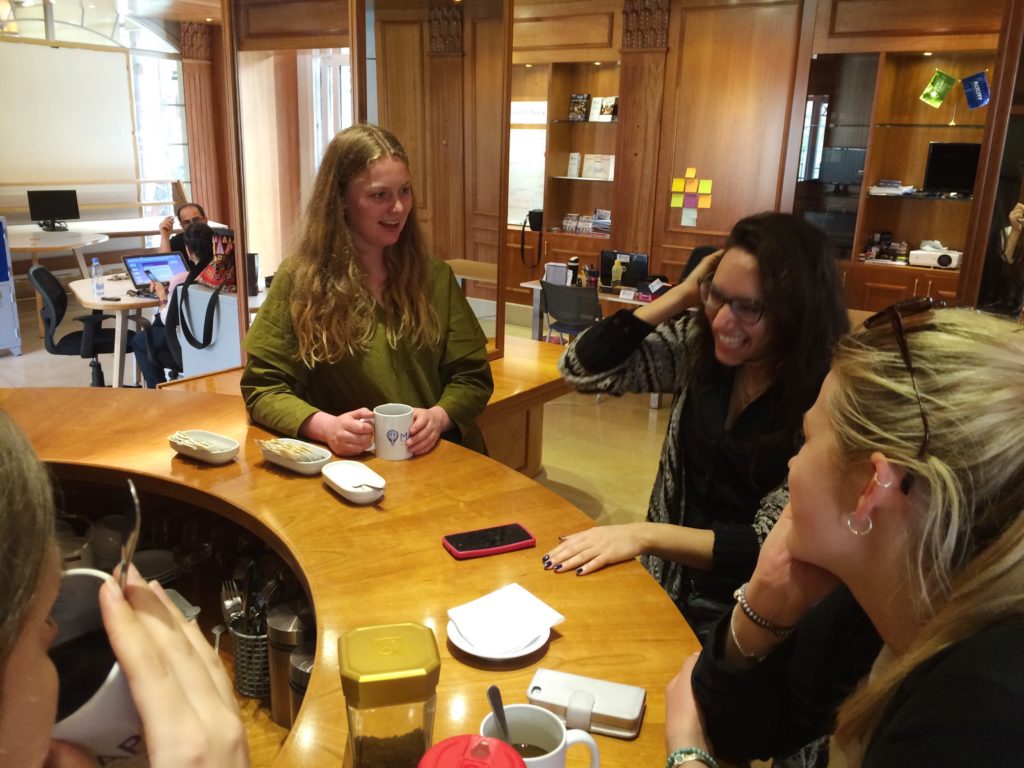 Discussing peacejournalism with Vanessa Bassil, the founder of Media Peace Association.
In the afternoon we were invited to a nice glass of wine at the Swedish embassy in Beirut, which houses the Swedish embassy in Syria, evacuated since 2012. The ambassador gave us a great insight in the Swedish diplomatic presence in both Syria and Lebanon. He was himself in Syria very recently, and describes Damascus as a place of great tensions, but where the impression of normalcy is still upheld on the surface.
Outside of the Swedish Embassy
The evening was spent at the Sursock museum. All museums in Beirut were free for the night, and we enjoyed art, music and free beverages in the warm Lebanese night. The museum has a great collection of Lebanese art as well as other temporary exhibitions.