Founding

The founder and first chairperson of the association was Gösta Lindeberg (1910-1995) who, together with the board of Lund Academic Association for the League of Nations (Lunds Akademiska Förening för Nationernas Förbund), decided to establish the Association for Foreign Affairs.
UPF's Vision

According to the founders, the League of Nations Association lacked a sufficiently broad basis to impartially study all international issues. The new association would adhere to the fundamental principles of the League of Nations, but it was to be politically and religiously independent. Through the years UPF has taken various forms and been connected with both the United Nations and the Red Cross. Since 1986, UPF is a fully independent student association.
Political Stance 
Despite the first paragraph of the UPF Charter, which establishes political independence, the Association has both followed and resisted political currents of the surrounding world. During the Second World War, UPF adopted a pro-British attitude, while during the 1960s and 1970s it displayed left-wing tendencies. Contemporary debate, while characterized by humanistic values, has no clear leaning to either side of the political spectrum.

Activities
The core activities of the Association remained the same throughout UPF's existence: current issues of international politics have been debated in lectures, seminars, discussion nights and study circles. Members have visited foreign countries, made study trips in and around Sweden, and hosted parties and formal dinners. Since 1935, almost all Swedish Foreign Ministers have given lectures for the association.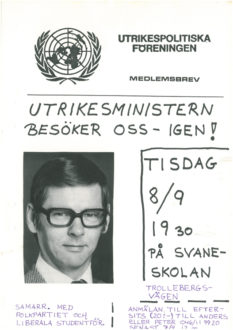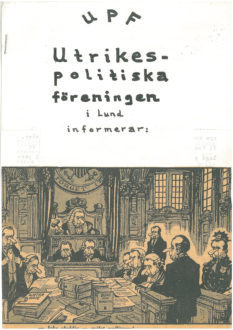 Former lecturers at UPF Lund
1955
Byråchef Sven Backlund, October 24th "UN in the Center"
1956
U.S. Ambassador to Sweden, John M Cabot, January 30th
Israel's Cultural attaché to Sweden, Yeluda Yaari April 23rd
Egypt's Trade attaché, Abd El Aty May 14th
Embassy secretary of Pakistan, Abdu Razzak December 4th
1957
Indian Ambassador to Sweden, I.S. Chopra 22 February
Chinese Ambassador to Sweden, April 24th
1958
Greece's ambassador to Sweden, Alexis Kyrou March 17th "Greece's role in international politics with special reference to the question of Cyrus"
1959
U.S. Ambassador to Sweden, James C.H. Bonbright, September 16th
Swedish Secretary of Foreign Affairs, Sverker Åström October 16th "Why is Sweden neutral?"
Member of the Swedish Parliament, CG Regnell November 2nd
1960
South Africa's minister to Stockholm, J.E. Bruce February 25nd "The Contemporary South African Scene"
Anntoni Szimanowsky March 22nd "Poland's position between Russia and East Germany"
India's ambassador to Sweden, Kewal Singh April 8th "The Relationship between India and China"
Japanese Ambassador to Sweden, Akira Matsui September 23rd
Former Danish Minister of Defence, Ole Bjørn Kraft December 9th "On the Doorstep to a New Age"
1961
Former Swedish Minister of Foreign Affairs, Östen Undén February 7th "The Foreign Policy of Sweden after the War"
Italian social activist, Danilo Dolci February 8th "South Italian and Sicilian social, economic and political problems
President of the International Commission of Jurists, Vivian Bose March 13th
Czechoslovakia's ambassador Jaroslav Havelka May 15th
U.S. Ambassador to Sweden, James Graham Parsons September 15th "Far Eastern Affairs"
American diplomat, Alfred L. Jenkins October 25th
Olof Wahlgren September 26th "The French-Algerian problems"
British Ambassador to Sweden, Robert Hankey November 12th
1966
Prime Minister of Iceland, Bjarni Benediktsson